As a child, we all had our favorite set of teachers and mentors; in school and outside. What exactly were the traits that made us admire them? It could be their way of speaking, their behavior towards the entire batch, or may be something which was just so admirable that we could not help but listen to what they had to say. And surprisingly it was only during their lectures that we understood the subject, simply because we focused.
It is all this what makes a successful teacher.
And when teaching as a volunteer, it becomes all the more important to make it count and successful. Volunteering India has 5 essential tips to make a volunteer teaching effort success while teaching in India.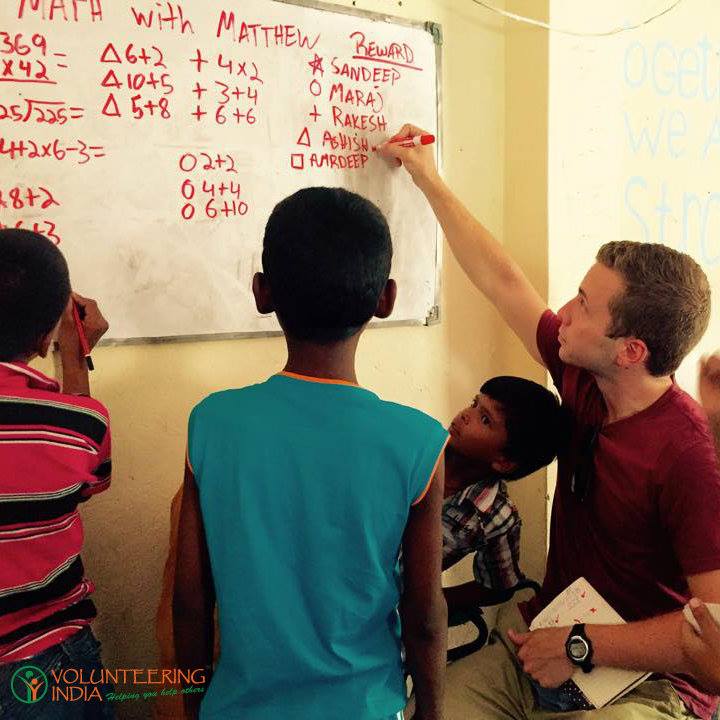 1. Make Everyday Different
Needless to say that kids get bored of things, they are not interested in, pretty fast. It, thus, becomes a very important aspect to keep the momentum going and get their complete attention. And what best can be for this than making your sessions innovative. Remember your days from school, when all you wanted was the class to get over asap so that you can go out in the ground and let your creativity flow. Apply the same. Take classes outside the four walls, teach from your personal experiences rather than books; create lectures in play-way method to make it more interesting.  
2. Communicate Freely
A very important aspect indeed. The schools where you will be volunteering under teaching projects are located in the remote rural areas mostly, where arrival of a foreigner is as exciting for the natives as, probably, for someone attending Pink Floyd's live concert. The point is, the kids will be looking forward to hear from you and interact with you a lot. So take advantage of that and communicate freely with the children. Learn about their life's stories and the high aspirations they have. Share your childhood experiences and struggles to motivate them and generate confidence. Communicating with the kids will help you, and them, to open up more.
3. Be Flexible With Your Role
A generic schedule asks a volunteer to spend 4 to 5 useful hours at the project during the weekdays. However, there are times when, due to overload of work or shortage of in-house staff available at that day, you may require to spend a little more time than usual. Although, Volunteering India's 10 years of experience says that after a couple of days of volunteering under the teaching project, volunteers don't even get the nick of time and end up spending almost entire day at the school, doing some or the other task. It may be spending quality time with the kids after classes, helping with the administrative work, supporting in the repair work of school infrastructure, and more. The roles keep changing and shifting, and what that results into is high value of respect for the volunteers in school administration's and children's eyes.
4. Observe the in-house faculty
While volunteering under the teaching program in a school, volunteers are accompanied by the in-house staff of teachers, which helps the volunteers to understand the key points. Not only the volunteers get a better understanding of the curriculum and the syllabus, but also the way the kids are handled in schools in India. It is always a good practice, and highly advised, that as a volunteer you observe the in-house faculty while they conduct lectures, and pick up the points you think would work great. You can then, of course, mould it and reshape it according to your own style of teaching; or may be just innovate a new method.
5. Learn a bit of Hindi
Very essential! Getting hold of the local dialect is one of the most effective ways to make a volunteering abroad expedition successful. While volunteering in India, it is a good practice to get your hands firm on few important and commonly used Hindi words or phrases. While this can be done on an individual approach as a part of pre-departure preparation, volunteers can also choose to take the Language and Orientation Week offered by Volunteering India that is tailor made for such activities. Volunteers get Hindi language classes during this one week's session, along with other cultural familiarities.  
We hope that you made good notes of these tips and are now all ready to travel to India to bring about some significant changes in many lives. Looking for more answers? Speak to our advisers at [email protected] and get answers to all your queries.