With about 36 UNESCO World Heritage Sites, India is home to historicity and monuments that represent it and goes beyond just the Taj Mahal. While this wonder of the world features on each traveler's list visiting the country for the first time but how about going offbeat and scratching the surface and exploring a tad bit more?
Well, then we have populated a list of monuments in India (also monument like temples) that you must check out while you are here.
1. Gwalior Fort, Gwalior, Madhya Pradesh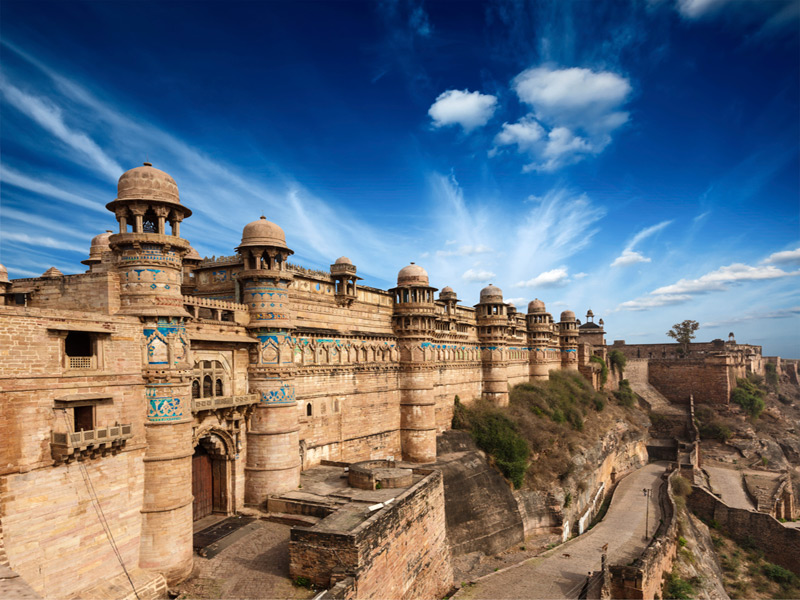 The Gwalior Fort has existed since the 10th Century and has been a hotbed for sieges, battles and certainly the 'Iron Throne' equivalent of India. Encompassing Jain Temples, Ponds, Bastions, the inscriptions inside of the fort have captured the imagination of many historians. Less than a 3-hour drive from Agra and 5-hour drive from Delhi (even lesser if you take an express train), Gwalior Fort is a matter of few fast-paced hours if you decide to visit it and absorb the grandeur, historicity, and beauty of the place. So listen to us and add this to your itinerary while in India. This trip is especially recommended to our volunteers who have taken the Golden Triangle Add-On Tour while volunteering in India. Never hurts have a +1, does it?
2. Amer Fort, Jaipur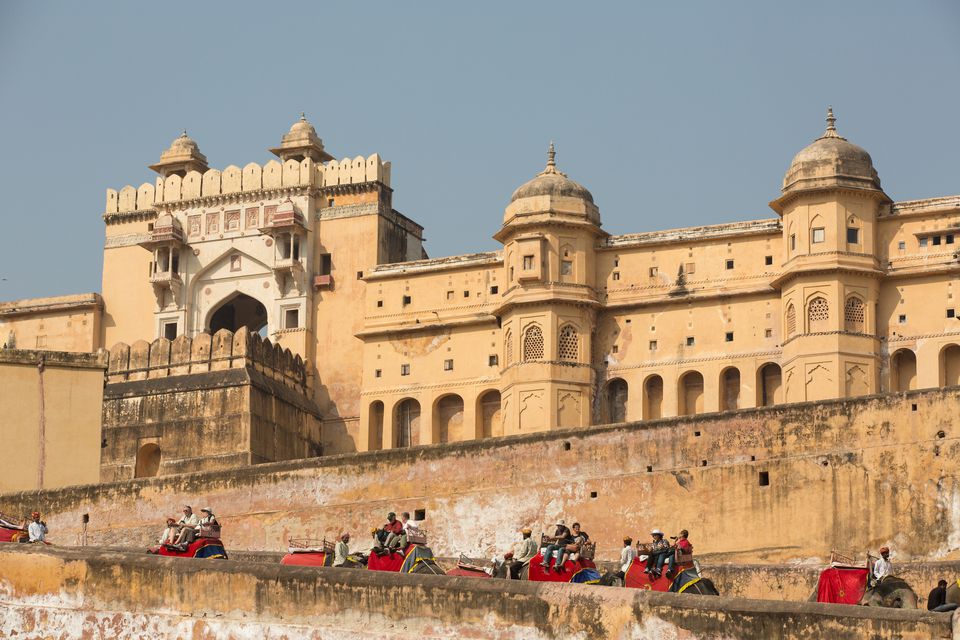 A famous and an uber magnificent constituent of the Six Hill Forts of Rajasthan recognized as UNESCO World Heritage Sites, in the 37th meeting of the World Heritage Committee in Phnom Penh during June 2013, Amer Fort is in the pink city of Jaipur, which is also the capital of Rajasthan. Situated on the hills of the Aravalli Range, the fort encompasses a lake, a palace of mirrors, and also a short trek up the mountaintop, oops, the fort top that'll give you panoramic views of the entire fort and that moment will definitely feature on one of brightest moments in your life. About a six-hour drive from New Delhi, you must visit the fort if you are in Jaipur or have just a day of a stopover in the capital city.
3. Ranakpur Temple, Rajasthan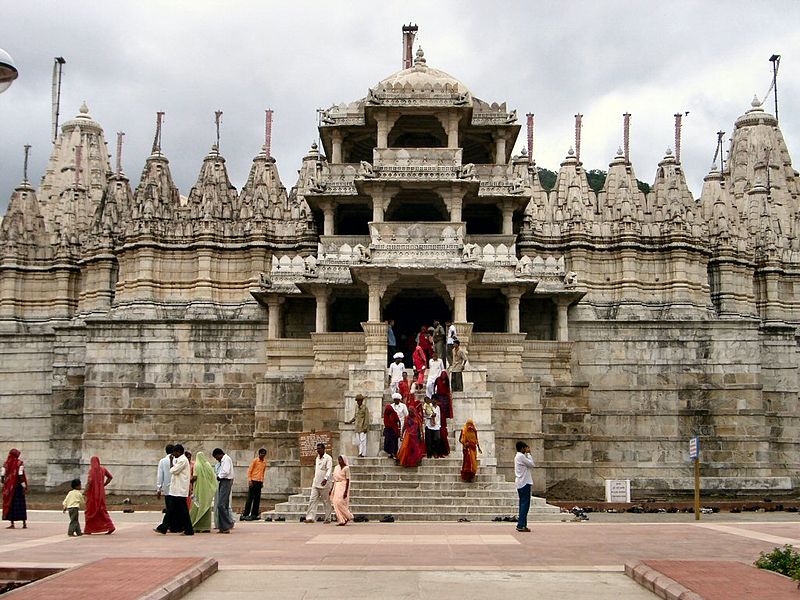 One of the most important Jain Temples built in the 15th Century, Ranakpur Temple is a fascinating marvel in itself. Containing numerous intricate carvings and pillars, one exceptionally beautiful carving is made out of a single marble rock where there are 108 heads of snakes and numerous tails. One cannot find the end of the tails. The image faces all four cardinal directions. There are also unique spots where chanting "AUM" reverberates across the hall. It is absolutely recommended to let the temple pundits guide and brief you about the history and art of temple.
4. Kumbhalgarh Fort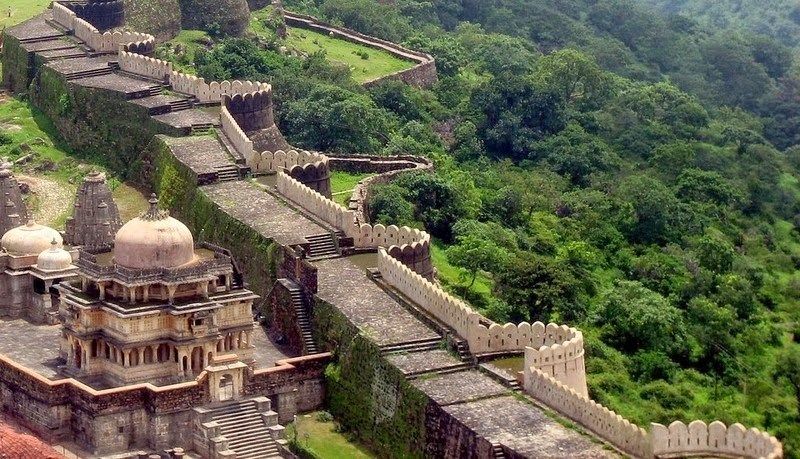 Easily accessible from Udaipur, which is an overnight journey from Delhi, the Kumbhalgarh Fort is a notable UNESCO World Heritage Site that should be covered if you are visiting Udaipur and club with it your visit to the Ranakpur Temple. Easily accessible from Delhi and Jaipur (take an overnight trip from Jaipur to Udaipur to cover this architectural wonder.
5. Adalaj Stepwell (Adalaj Vav), Gujarat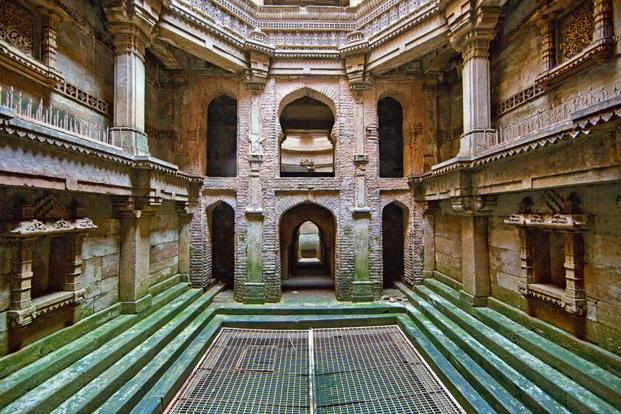 An architectural valve, the stepwell is built in Solanki architectural style and is five stories deep. It is octagonal in the plan at the top, built on an intricately carved large number of pillars. Each floor is spacious enough to provide for people to congregate. Started by a Hindu King and completed by a Muslim King, the style of the structure is also Indo-Islamic in nature. Situated in Ahmedabad, close to the capital city of Gujarat, Gandhinagar, a visit of Adalaj can be clubbed with a visit to the Gandhi Ashram in the city. An unmissable experience for the history and culture enthusiasts, this trip can be taken over a weekend while you are in Delhi/Jaipur.
6. Jama Mosque, Champaner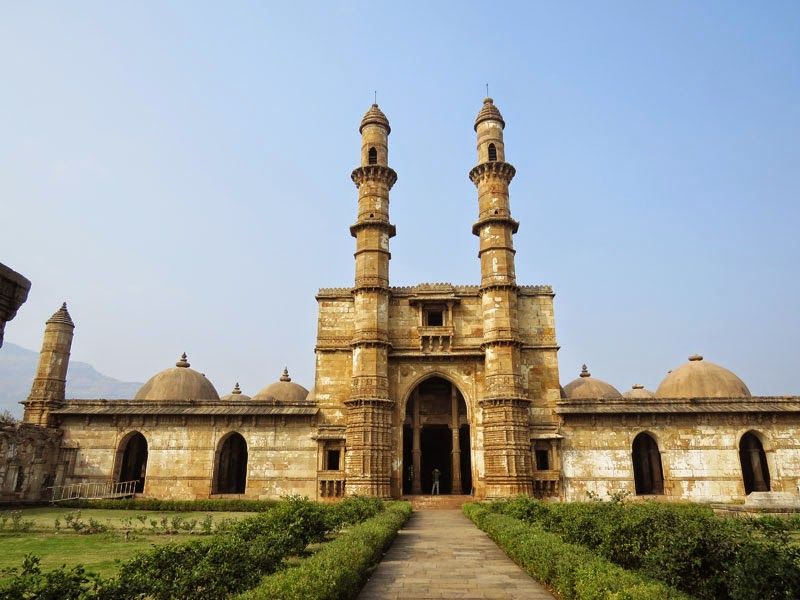 Also known as the Jami Masjid, is a part of UNESCO World Heritage Site of Champaner-Pavagadh Archaeological Park in Champaner, Gujarat. A blend of Hindu religious connotations and Islamist ethos, it's one of the finest mosques in India with never seen before interiors and architectural marvel. Featuring Miners, Fractal Carvings on the Ceilings the 'Jaali' Design, a trip to this mosque can be clubbed with your trip to Rajasthan as Gujarat and Rajasthan are neighboring states.
7. Golconda Fort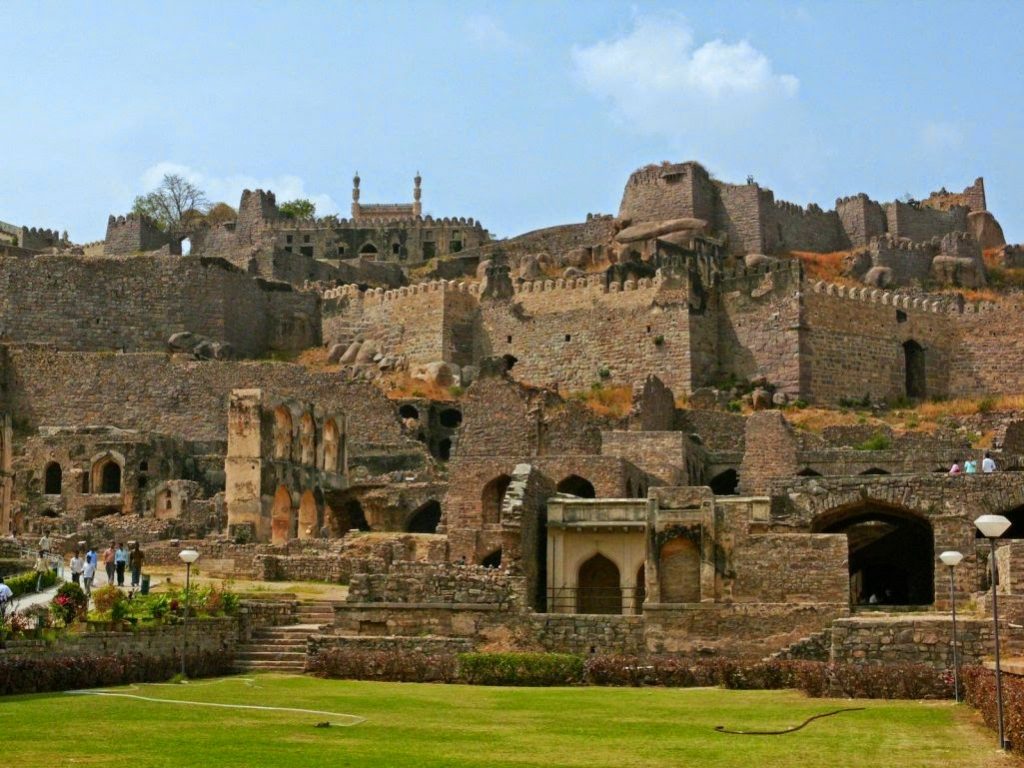 Head down South to explore this giant of a fort that will need you to put on your trekking shoes and wear your sunglasses as exploring all of the Golkonda Fort complex and its surrounding spreads across 11 km (6.8 mi) of total area and discovering its every nook is a herculean task. Citadel of the Kakatiyas, Qutb Shahis, and the Mughal dynasties, Golconda hosts a beautiful sound and light show over the week and should be attended by the fort lovers. Also featuring on India's tentative list of UNESCO World Heritage Sites, head to the Golconda to get a glimpse of the South of India and experience the old city charm of the Hyderabad city.
8. Orchha Fort Complex, Madhya Pradesh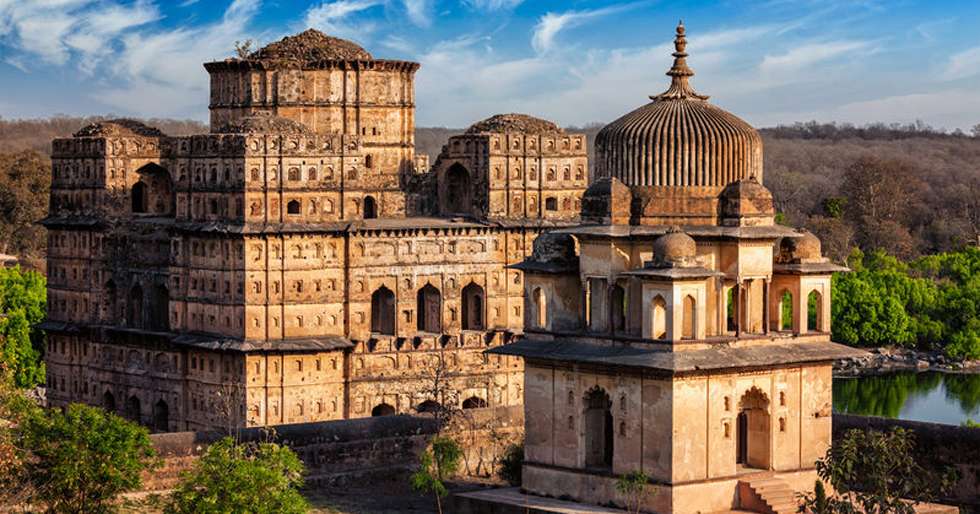 About 6 hours away from the capital city of Delhi, the Orchha Fort Complex is close to Jhansi City and is easily accessible by several Indian trains. An architectural marvel, the fort complex is within an island formed by the confluence of the Betwa River and Jamni River and constitutes several "Mahals" (palaces) within the complex. The complex can be reached from an arched gateway leading to palaces such as Raja Mahal, Sheesh Mahal, Jahangir Mahal, a temple, gardens, and pavilions. Ornamented and consisting of projected balconies and decorated windows, the complex will take an entire day to be experienced and enjoyed and should be covered during a weekend while you are volunteering and traveling in Delhi.
9. Ajanta and Ellora Caves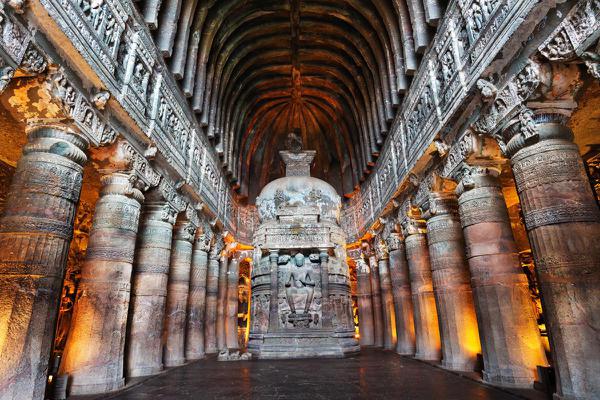 Located in the Aurangabad district of Maharashtra, the Ajanta and Ellora Caves feature several Hindu, Jain and Buddhist Monuments and invite a lot of culture, history and religion enthusiasts in the Marathwada region. One of the most celebrated religious and historical monuments in India, the caves are also famed as a UNESCO World Heritage Site, the UN Heritage Website says about the monumental duo,
"These 34 monasteries and temples, extending over more than 2 km, were dug side by side in the wall of a high basalt cliff, not far from Aurangabad, in Maharashtra. Ellora, with its uninterrupted sequence of monuments dating from A.D. 600 to 1000, brings the civilization of ancient India to life. Not only is the Ellora complex a unique artistic creation and a technological exploit but, with its sanctuaries devoted to Buddhism, Hinduism, and Jainism, it illustrates the spirit of tolerance that was characteristic of ancient India." Nearest to the Mumbai city Airport, Aurangabad is easily accessible from Mumbai.
10. Hampi Group of Monuments, Karnataka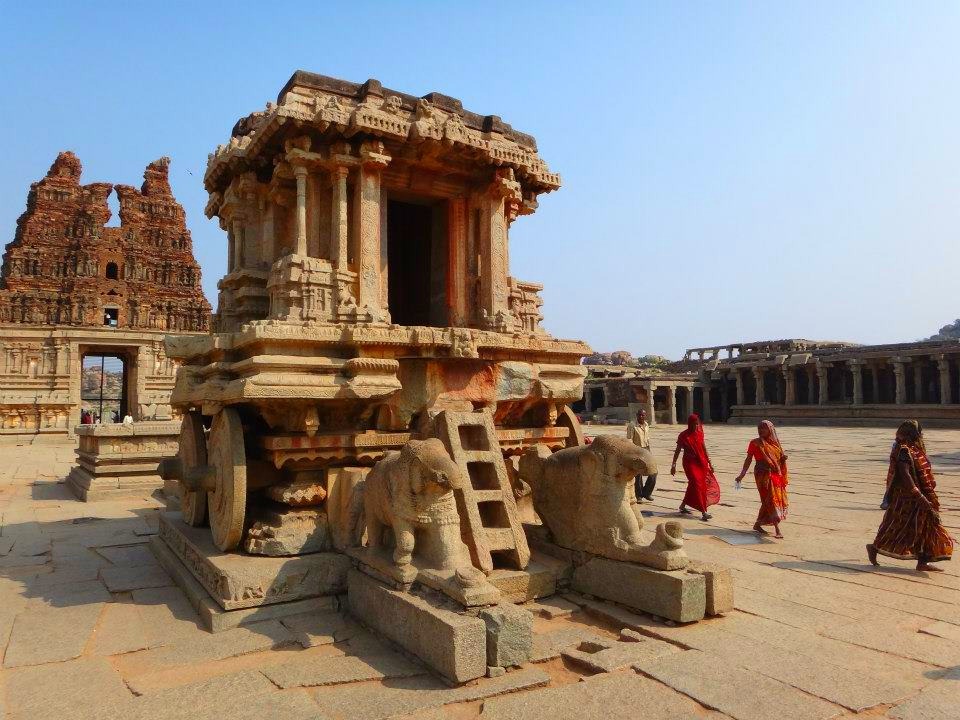 The Last Capital of the Vijayanagar Kingdom lies in the Deccan Heartland and is enthralling and fascinating, to say the least. The grandiose of the region has attracted people across the world and across centuries. Accessible from Bengaluru, the nearest airport city, and Hospet, Hampi needs your entire weekend. Also known for its hippie travelers who play some awesome music by the ruins, make this a must feature on your bucket list.
11. Airavatesvara Temple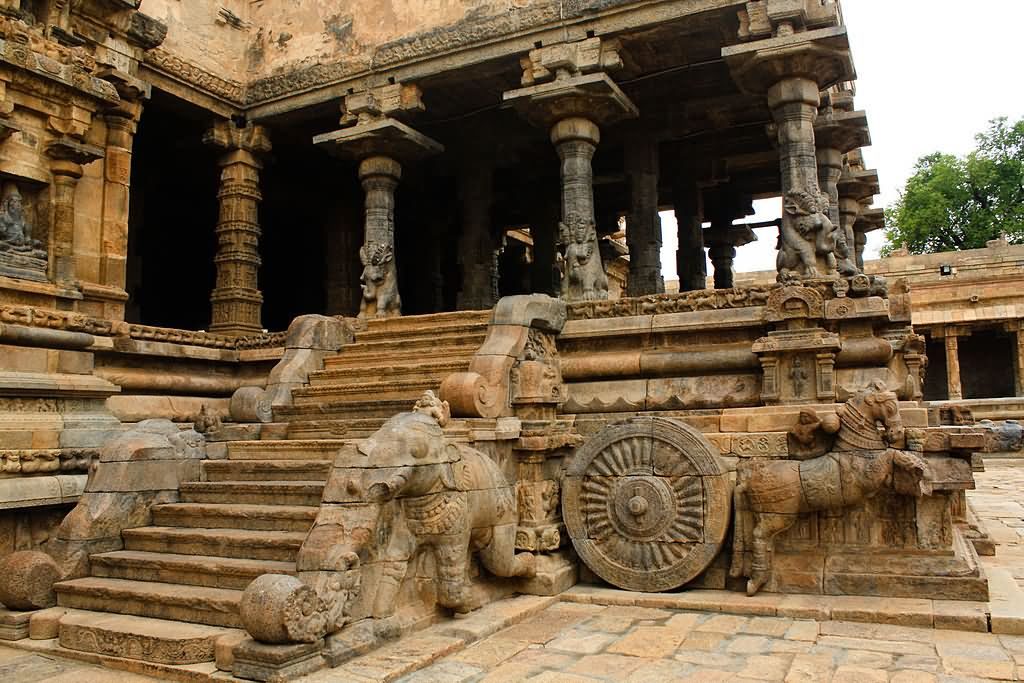 Famed for its Tamil (Tamizh) Architecture, The Airavatesvara Temple is world renowned UNESCO World Heritage Site which was built by the Chola Dynasty in the 12th Century. The Airavatesvara Temple is located in Darasuram, about 300 kilometers southwest of Chennai, the capital city of Tamil Nadu. The picturesque countryside around the temple accentuates its beauty and is an absolute must visit for enthusiasts of Indian Culture, with its Southern specificities. The temple It is about 40 kilometers to the northeast to the Brihadeeswarar Temple in Thanjavur and about 30 kilometers to the southwest of Gangaikonda Cholapuram Temple. All three are a part of the UNESCO world heritage site.
Now that you know which all historical monuments in India should feature on your travel bucket list, club some of these while you are volunteering with us. Feel free to contact our travel desk to make quick arrangements for you.