Volunteering In India can be a very enriching experience – Be it working in an orphanage or a women empowerment project, the work will require you to put in a good amount of effort to make a sizeable contribution in your project. And, while you try hard to bring a smile on the  faces of people who you are volunteering for, we have a list of the must visit markets while you are in Delhi.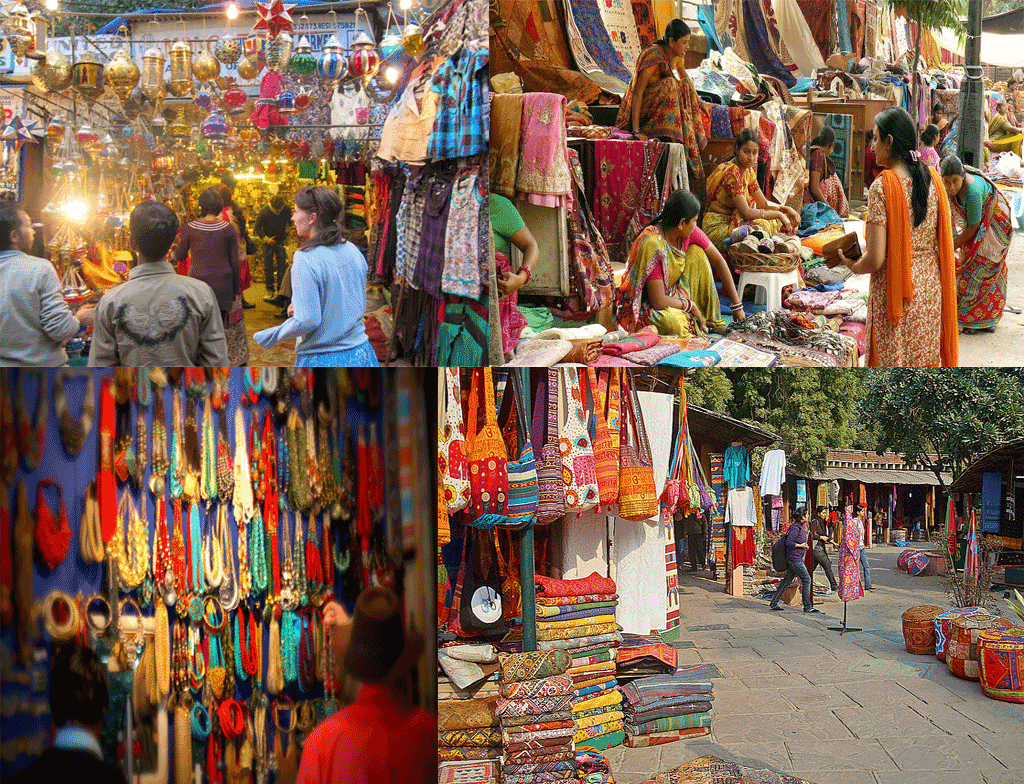 1. Khan Market
Centrally located, Khan Market is one of the most posh markets in India and also all over Asia. Some of the best brands for shopping and most exquisite restaurants for dining, Khan Market is minutes away from the famous Lodi Gardens. The nearest metro station from the market is Khan Market on the purple line of Delhi Metro. It is also easily accessible by road.
2. Sarojini Nagar Market
A favorite flea market amongst the youngsters of Delhi, Sarojini Nagar Market is well known for its wide variety of clothes, accessories, home decor and other such products which come at a great price. You absolutely need good bargaining skills to shop smart in this market. This market is located towards the south of Delhi and the nearest metro station is INA.
3. Dilli Haat
Located In North, South and West of Delhi, this market has been deliberately designed to give it a village like market feel as that in a "haat" . Famous for its indian handicrafts, traditional ambience, food from various Indian states and some beautiful Dance and music performances – Dilli Haat is a must visit place while in Delhi. All the three haats have nearby metro stations and are also easily accessible via road transport.
4. Janpath Market, Connaught Place
Near the the ever so crowded and well known Rajiv Chowk Metro Station, the Janpath market in Connaught Place is endowed with fashion accessories and clothing of all kinds. Adjacent to it is the Tibetan Market which has some of the best Indian artifacts and handicrafts. However, it is advised to absolutely hone your bargaining skills before shopping in this market.
5. M Block Market, Greater Kailash
Offering a blend of some awesome brands and even more awesome flea markets coupled with some fine dining eateries, M Block Market in Greater Kailash is a shopping enthusiast's paradise. Pay a visit to witness the creme de la creme crowd of Delhi in terms of fashion and fancy.
6. Paharganj Market
Located close to the Ramakrishna Ashram Marg, The Paharganj looks shady but is home to the best accessories, clothes and handicrafts in Delhi. In a super crowded area, this market attracts more of non-Indians than Indians and should be visited at least once by all volunteers in Delhi. This market also has an ashram that promotes Hindu spirituality and along with this, Paharganj has some of the cheapest bars and eateries.
7. South Extension Market
As the name suggests, located in South of Delhi, this market again is for the elites looking for some "brandilicious" shopping. Close to the AIIMS metro station on the Blue line, this market is good to explore the sophisticated side of Delhi.