Every year, on 14th of November, India celebrates the occasion of Children's Day. Though celebrated on the 20th of November globally, in India it is celebrated on the birth anniversary of Pandit Jawaharlal Nehru; the first prime minister of the independent India. He was considered to be very much dedicated towards the children of the country and had lot of love and affection for them. In Hindi, it is termed as the 'Bal Diwas'.
The first ever celebration of Children's Day took place on the 14th of November 1964, and since then have been celebrated with much fervor every year, across the country. All educational institutes, especially schools, celebrate this day with functions and events. However, there is a section of children who remain excluded from this fiesta. Maybe they are not even aware of the fact that there is a certain day which is dedicated to them and that they are entitled to adoration, especially on this day.. These are those underprivileged children who either do not have families, or they come from the dungeons of poverty where the light of happiness is nearly extinct.
A rough estimate shows that there are close to 8 lac street children in India, who are either orphans or have been left off by their families due to extreme poverty. There are several social welfare organizations who work diligently towards the development of such kids and provide them shelter, food, meals, etc. However, being individually run spaces, these organizations are in hunt for regular support, both, monetarily and in terms of manpower.
Volunteering India makes sure that their efforts do not go in vain and provide volunteer support to some of such organizations by placing volunteers from all over the world to work at these support centers. There are a number of different volunteer projects dedicated for the welfare of the children in India that a volunteer can work under. These include:
Childcare Volunteering Program
–          Orphanage Project
–          Street Children Volunteering Project
–          Teaching English Project
–          Teaching Volunteering Project (basic subjects along with English)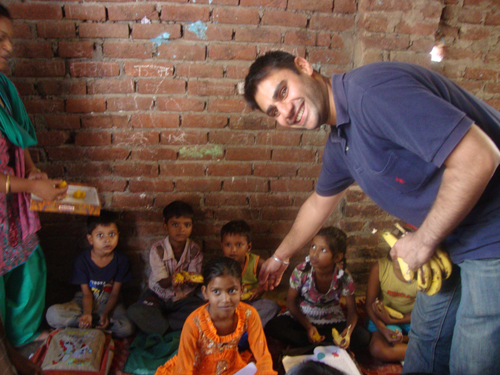 Volunteers interested to work with children in India can choose from any of these enlisted projects and make a huge difference in the lives of these kids.
We know that Children's Day is celebrated to commemorate the decision of the United Nation's acceptance of the Declaration of the Rights of the Child, which happened in 1959. However, an interesting fact about is that the first ever Children's Day celebration was under the International Union for Child Welfare in Geneva, six year before the declaration, in the year 1953.
To carry on this thoughtful  tradition and create a legacy, join the street children of India and make this day special for them. Drop us a comment below to know how you can be a part of their lives.